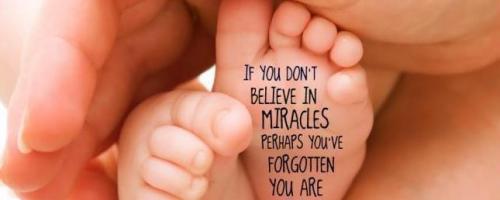 MIRACLES
Do you believe in MIRACLES?
Let me ask another question then ….
"Do you believe in yourself?"
This beautiful word MIRACLE is often dismissed as a fantasy word saved a little like a wonderful fine china tea set, only brought out for use on special occasions. If you come to my house any day of the week, you will always be served a cup of tea in my finest china. For everyday MIRACLES occur often in my world and I believe wholeheartedly that we all deserve the best in life everyday, not just on special occasions.
If we look to our trusted non-romantic dictionaries on what this word MIRACLE actually translates to in this western worlds texts it states that a MIRACLE is ….
"A wonder, a marvel, a sensational phenomenon, a welcome sign".
So again I ask you to ponder my questions about your beliefs in everyday MIRACLES and yourself.
If I asked those who love you the most if you have bought marvel and wonder to their worlds what would they say"?
To love and to be loved is life's most sensational phenomenon the most powerfully satisfying and welcoming sign that all is well in our world.
How many times have we heard others say they don't believe in love, only to stand years later at their weddings perhaps even hold their newborn babies as we watch the MIRACLE of love transform a life.
Life takes many unpredictable turns and has many ups and downs. Things that once seemed impossible and hopeless become realities if we consistently choose to let go of fear and hold onto love.
When we become open hearted to love and life, we learn that MIRACLES can and do happen everyday. Transformative wonderfully beautiful events are yet to come for us all. Yes there will be dark days and storms, but there is always rainbows and starry skies to even things out. MIRACLES are reminders that we do not know everything.
So if you are feeling you have lost sight and belief in the delight of everyday MIRACLES maybe you are heart has closed its doors to the sunshine of love for a little too long.
Why not just ask someone who does love you, what you bring to their world?
If there is no-one available try to remember those times where you've triumphed, not given up and right here, right now as you read these words your heart knows it deserves great love, even if your head is doing you in.
As Willa Catha reminds us …..
"Where there is great love, there is always MIRACLES"
Lotsa love Cynthia xxx
© Copyright 2016 Cynthia J. Morton Emotional Fitness™