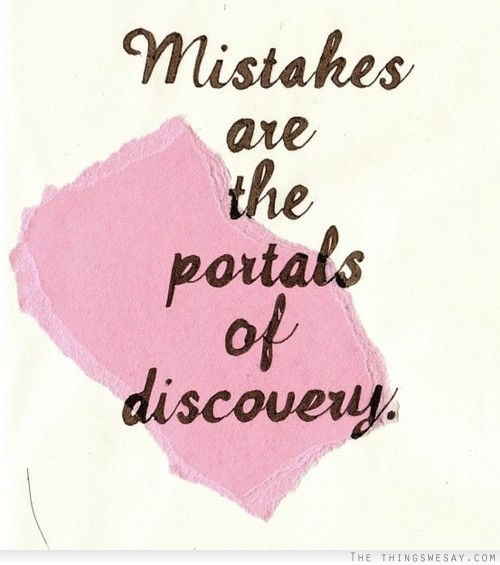 It's always healthy emotional homework to monitor how we manage our disapproval when it comes to MISTAKES.
We are of course entitled to disagree and disapprove as few of us enjoy the results of a MISTAKE.
In every MISTAKE there is a message, however, some of us miss the message because we are too busy disapproving and even disrespecting ourselves or others for making the MISTAKE.
Reactions like "bloody stupid", "fucking idiot" and "dumb as dogshit" are red flags in our dialogue that we need a little help processing MISTAKES with more wisdom and maturity.
Let us also be fearlessly honest as we digest this word vitamin called MISTAKE together, as many of us don't learn from the first, the second or even the third MISTAKE.
Many of us only become willing to learn when we realise the stakes are critically high and it is our last chance.
I confess too many times in my life I have only been willing to move towards enlightenment because of the heat up my arse, and the emotional cost if I did not.
So moving forward, if anyone makes or has made a MISTAKE including ourselves, let us ensure we still treat the person in question with respect.
This takes emotional strength and discipline.
As we master this skill others listen to and respect us more as a result.
Let's not disrespect nor misunderstand others just because they make MISTAKES differently from us.
Sometimes our biggest MISTAKES and most confronting and confusing misunderstandings give us our greatest emotional reward … once we become willing to rise above our bruised ego and fears!
A bad day for our delicate ego can be a great day for our too often ignored, wise hearts.
Lotsa love Cynthia xxx
© Copyright 2016 Cynthia J. Morton Emotional Fitness™
This Word Vitamin is an excerpt from my latest bookset "The Four Seasons of the Heart". If you would like to order your own full set of Daily Word Vitamins one for each day of the year, in book form for yourself or as a gift just click on the SHOP tab and place your order.