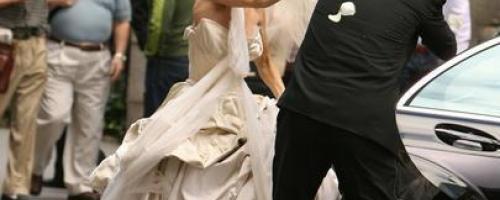 What screws us up most in life is the picture in our fantasy of how life was supposed to be and how it was supposed to turn out.
Those of us not emotionally supported through our first right of passage by our "first love" live with the feeling of UNFINISHED BUSINESS.
For females her "first love" is her father, and for males, mother is his "first true and pure love" as she's the first female he allows close to his heart.
The BUSINESS of growing up from a boy into man, from a girl into woman in adolescence if our emotional needs are met by our "first love", young adulthood can be a wondrous experience.
As adolescent teens in order to learn how to stand as an emotionally independent adult we need consistent emotional support. Finding our emotional centre of gravity as we learn to balance our supercharged hormones and libido and also honour our feelings takes a few years. It takes a few years to prepare a child in infancy for the outside world to commence school; the same applies to our adolescence.
In preparation to leave the nest emotionally well equipped once and for all, we need a lot of patient parental support.
A mother and fathers humanitarian BUSINESS contract to their child is to empower them to leave the nest well equipped. Young adults need to believe in themselves and feel confident they have what it takes to be a man or woman of value in this world. Some parents show up with physical, academic and financial support, but too few parents are consistently emotionally available.
Adolescence is the starting point for our adult life to be launched. Some of us crash; some of us never emotionally leave mother or father. Many of us, however, do make it out of the nest, just, but live the remainder of our emotional adult life trying to get partners to fill this parental void.
We transfer our anger, disappointment and abandonment wounds on to our lovers and eventually our spouses.
Co-dependence or anti-dependency is the result, rendering us emotionally absent adults still carrying the baggage of UNFINISHED BUSINESS they left home with in adolescence.
So how do we unscrew ourselves from our adolescent fantasies of how and who we shoulda, woulda, coulda been?
We get help, that's how.
We become a mature-age student and go back to school.
Many of us go back to attain high-school accreditation that for whatever reason we were unable to attain in adolescence.
We can unlearn co-dependency and anti-dependency in the same way, by being willing to be teachable and open to the discipline of self-study (what you and I are doing right now by the way).
There are many ways to the waterfall, so we just take the paths that feels right for us.
Therapy, healers, great authors, life coaches, wise elders and mentors can pick up where Mum and Dad left off and dropped the ball, or perhaps were never even there at all.
The great news is it's never too late to become the adult we've always admired.
So let's help ourselves or others who have any UNFINISHED BUSINESS so we can finally put down our weapons of mass distraction, end the war, finish this BUSINESS of growing up once and for all and become more emotionally available for our own kids.
We all deserve some well-earnt peace!
Lotsa love Cynthia xxx
© Copyright 2016 Cynthia J. Morton Emotional Fitness™