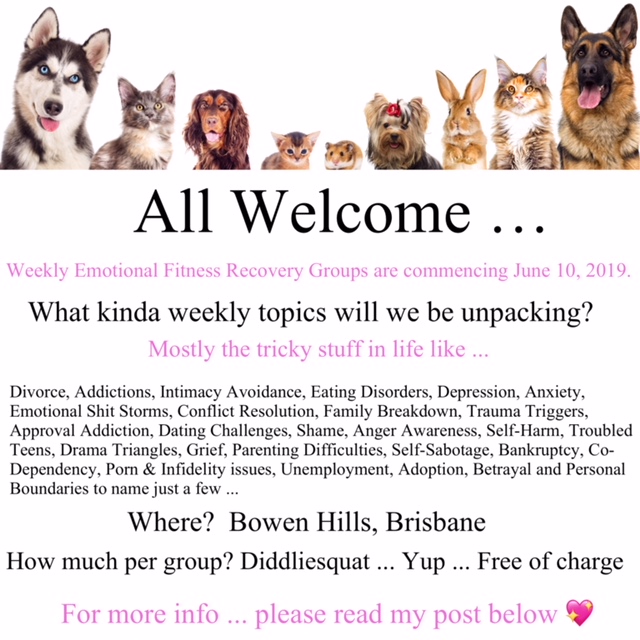 Charity work and giving back has been the cornerstone of my own sobriety, emotional recovery and work ethic since 1995.
The more abundance I'm blessed with as each year passes the more charity work I choose to do so I don't throw my life out of balance, remain grateful and teachable.
I have been honoured and overwhelmed over the past 24 years to have built a thriving private practice that offers one on one sessions. However, it has just about reached its full capacity with private client intake as my waiting list is longer than I'd like it to be. So, it now makes sense for me to create a broader more accessible service by offering weekly groups.
Whilst I love one on one client session work … group work has a healing dynamic and magic to it that is educational, validating and enriching.
My Emotional Fitness group workshops throughout the years with The Australian Defence Force, Sports Teams, Olympians, Executives, Jails, Rehabs, The Corporate sector, Education Department and Clinical teams has been such an educational time in my life. I am so looking forward to sharing the diverse range of emotional tools, everyday wisdom and healing techniques that have been shared with me over the years … and to also keep learning from the new wise souls within these new groups.
I am so grateful to Queensland Health who have been such loyal supporters of my Emotional Fitness group work since 2000.  They have generously gifted us with the weekly use of an exclusive, private Emotional Fitness Recovery Group room!
The best bit … They will be free, and everyone is welcome …
What kinda weekly topics will we be unpacking?
Mostly the tricky stuff in life like … Divorce, Addictions, Intimacy Avoidance, Eating Disorders, Depression, Anxiety, Emotional Shit Storms, Conflict Resolution, Family Breakdown, Trauma Triggers, Approval Addiction, Dating Challenges, Shame, Anger Awareness, Self-Harm, Troubled Teens, Drama Triangles, Grief, Parenting Difficulties, Self-Sabotage, Bankruptcy, Co-Dependency, Porn & Infidelity issues, Unemployment, Adoption, Betrayal and Personal Boundaries to name just a few …
All are welcome … The only requirement to attend these 90-minute weekly groups is to bring an open heart and mind and willingness to respect other attendees at all times.
Our first topic group will be on Anger & Personal Boundaries and kicks off on Monday June 10 at 10am.  The group day cycle will rotate throughout each month starting off on a Monday, the following week on a Saturday, the next week will be a Friday then the last group in the cycle on a Sunday then … repeat.  All groups will commence at 10am.
If you'd like to attend, receive a full 2019 Calendar of Weekly Topics along with a map on where to find us please email me cynthia@emotionalfitness.com … and I'll forward more details.
I hope to see you … Lotsa love Cynthia ?
P.S. The launch date of my next on-line recovery project is still on track scheduled for Sept/October 2019 … Thanks for your patience … I'll keep you posted.