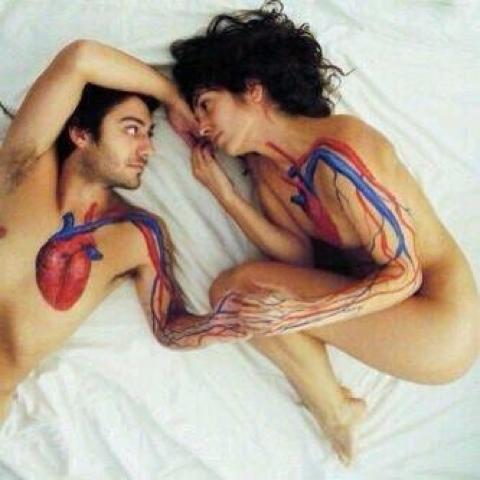 The true meaning of the word intimacy involves a willingness to undress our heart and stand emotionally NAKED in front of those we love.
Hiding nothing of ourselves and being emotionally exposed and transparent is the only way we can be truly known for our flaws and fabulousness!
The NAKED truth about who we are and who we're not at a heart level is the route to growth inward. To be willing to disrobe and take off our masks, fears, recklessness and bravado takes courage and Emotional Fitness.
It requires no real skill to shed all of our clothes and have sex (for some maybe a little alcohol or chemical help offers Dutch courage), but people do it all the time. However, opening our heart up to someone revealing that sacred place where we are emotionally NAKED, innocent and open to love and be loved and letting another share our hopes, dreams, future and old age with, now that's gutsy…
That's being truly NAKED!
It has been said that a human being's most challenging frontiers are always our internal ones, that has definitely been my experience.
If we are blessed, we have a biological tribe who we can emotionally reveal ourselves to as adults and be loved for all of our wounded heart's NAKED glory. However, many of us don't experience the biological support we have hoped for in adult life.
I first learnt to get emotionally NAKED in a very safe place; with my therapist and another recovering alcoholic, my beautiful Barb, who is still my elder today. In this safe space I experienced deep heart healing. As a result my therapist and Barb became the first adult members of my heart's family (outside of my children). These two adult relationships gave me the courage and the Emotional Fitness to be brave enough to venture into an intimate romance with Mr Delicious (my hubby today). He too is now a part of my sacred heart family. I can be emotionally NAKED, my heart fully exposed and vulnerable and he still stands by me at my best and at my worst and loves me.
If we won't work on our fears about making the trek within to expose our heart's truth, with a willingness to be absolutely NAKED, we will go without love's intimate treasures awaiting us there.
Let's remember to be just a little more grateful moving forward for those in our heart's family we can relax with and feel safe to get totally emotionally NAKED with.
Lotsa love Cynthia xxx
© Copyright 2016 Cynthia J. Morton Emotional Fitness™
This Word Vitamin is an excerpt from my latest bookset "The Four Seasons of the Heart". If you would like to order your own full set of Daily Word Vitamins one for each day of the year, in book form for yourself or as a gift just click on the SHOP tab and place your order.